10 marketing tips for tattoo studios to get more clients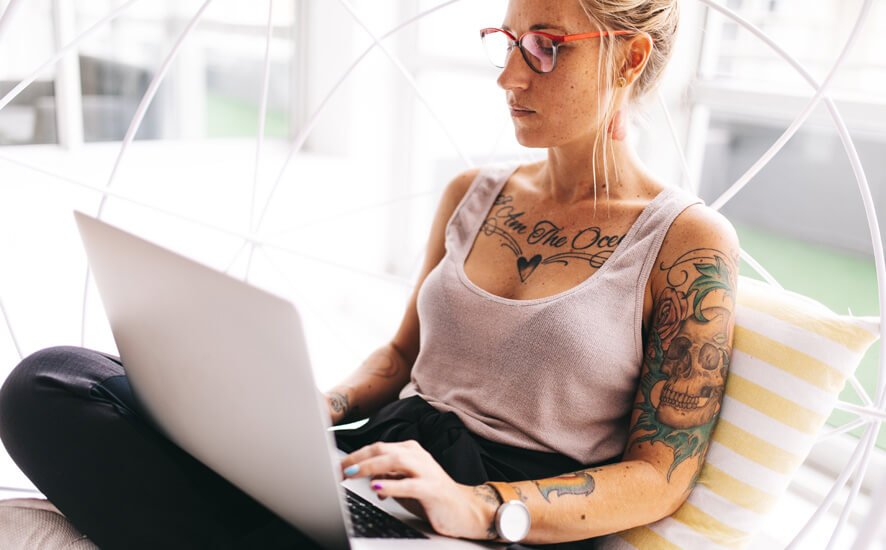 Let's put the facts straight: most tattoo artists aren't really into spending too much time on creating advertisements – nevertheless, more and more of them grow to know how to present themselves to gain wide recognition.
The consensus in the industry is that good work speaks for itself. Well, it's true that once people get to know how great your work is, they will begin coming in droves. But here's the rub – people have to get to know how great your work is first. And don't expect a biblical annunciation happening to your potential clients – you have to take matters into your own hands. If you are a new studio owner or are looking to enhance your marketing prowess, get familiar with these 10 tips on running marketing activities conveniently, yet effectively.
Creating your image
Set the tone with your branding
The way you present your studio is very important, as it determines the type of clients you'll attract. A logo consisting of ornamental birds and roses will be a signal for all the savvy Instagrammers to visit your studio for their infinity symbols and dream catchers, whereas your potential tough-guy biker clients will go elsewhere for their flaming skull and Metallica tattoos. It all boils down to determining your target group and fitting your branding to their likes and interests. Also, remember that your visual identification can wonderfully represent the tattooing styles and themes you specialise in. And if you run a studio where several artists with different styles work together, it's good to have an easy-to-remember name and logo that is rather neutral.
Portfolio, portfolio and one more time: portfolio
The most important thing is, of course, your portfolio. Most studios have a photo gallery on their website and also share their work on Facebook and Instagram, but some decide to focus on Instagram only, as it is the most visual-focused out of all relevant social media channels. This solution has its pros and cons – it's very convenient and allows you to manage your portfolio easily, but you have to be sure that the vast majority of your target audience uses Instagram.
There is one more thing to remember about sharing your artwork online – always use watermarks (half-transparent signature added on your photos) with the name of your business and/or your logo, so that whenever someone shares your work (eg. on Pinterest), other people are able to find the author of the design. It helps to promote your studio and you as an artist. Also, don't forget to add the Pinterest save button to every tattoo picture on your website -your visitors will be able to pin their favourites to their Pinterest boards.
Spreading the word
Attend tattoo fairs and conventions
You may ask why would you want to engage in industry events when you are craving actual clients. Well, firstly – good relations with other tattooists are always helpful (for example, you can recommend one another to clients looking for a particular style). Some relationships may lead to very lucrative results – you have to remember that the tattoo industry is heavily based on recommendations. Secondly – you can meet new clients and fill your appointment book right on the spot. There is a very peculiar type of clients who attend such conventions to seek for tattoo artist whose style will truly allure them. Thirdly – usually you look for clients who want to get their tattoos during the event before it starts, via your Facebook or Instagram page. Your design then can get rewarded, earning you respect and publicity. Lastly, you can meet tattoo media publishers who may want to include your work in their articles.
Take part in charity initiatives
Oftentimes tattoo studios engage in projects that help to raise money for some honourable goals – for example, you offer free tattoos to people who donate a certain amount to a particular charity. What do you gain? Good publicity, more recognition, potential clients (the people you tattooed for the charity may come back for more if they're pleased with the design they got for the donation). However, if you don't believe in the cause, just let it go – doing charity for the sole purpose of making a profit from it is a horrible thing to do. Don't be that guy.
Ask for referrals
Word-of-mouth recommendations are still the most effective way of getting new customers. Don't be afraid to ask your clients for reviews and remind them to tag your studio if they publish photos of their new tattoo online. If you are running a loyalty program using Versum, you can reward clients who brought their friends along with a substantial amount of points (that they can later on exchange for a tempting prize).
Barter (wisely)
Bartering is an exchange of goods or services without the use of actual money. It's a common practice to barter with other tattoo artists and influencers – offering them design in exchange for advertisement (posting a photo, writing a positive publication). It can be extremely lucrative, however, you have to be careful. If you've got a bartering offer (or you are planning to make one), take a moment to analyse the person you want to cooperate with. How many active followers they have? Is their audience your target group? Is this person someone you want to be associated with? If you decide to make the deal, be very precise about the terms so that both sides are sure what to do and what to expect in return.
Focus on the right channels
Have you already created your fan page on Facebook, Instagram, Twitter, Pinterest, YouTube, LinkedIn, Reddit, Snapchat, TikTok, Quora and Medium? If you didn't, don't move a muscle. Contrary to popular belief, you don't need to be available on every single social media platform. It's better to focus on being active on one or two – preferably Instagram and Facebook. Once again, be where your target audience is and don't waste time and energy on anything else.
Choose the right person to operate it
A common mistake studio owners make is assigning the manager to take care of the social media pages. First of all – managers are usually very busy people and they don't often prioritise doing this (which is understandable). Secondly, they may not be really interested and up to date with all the social media nuances. Look for someone suitable among your younger employees – they are usually very active on social media and one of them may actually be an internet micro-celebrity themselves. Remember to set some guidelines for the employee so that your studio's entire online identity is consistent!
As a tattoo artist, you most probably don't feel inclined to share the photos of your newborn baby taking a bath on your professional page – if that's the case, then you're on the right path! Keeping your business page professional and relevant is very important, so make sure the descriptions of your photos are on point. Also, master the art of adding the right hashtags – when looking for a design idea, people usually browse the pictures added under a certain hashtag. They also do so for a particular style or location. A carefully chosen set of hashtags helps you reach people who are actually interested in your services.
Measuring the effects
Befriend your statistics
You can't be sure which marketing activities bring you real profit unless you properly measure them. Versum has a whole section dedicated to generating detailed reports on your studio's outgoings. Clear, straightforward statistics on the number of new and returning clients allows you to understand your audience's needs better and adjust your marketing activities accordingly. Additionally, you can track which acquisition source brings you the most customers.
Your work is great and you know it. Let other people know as well – without consequential marketing activities, you will never reach the clientele you deserve. You don't have to be a specialist – you don't even have to be a social media enthusiast, either. With a few tricks and a clever digital helper, you can actually focus on your job while the marketing takes care of itself.