A collection of the best nail salon quotes and sayings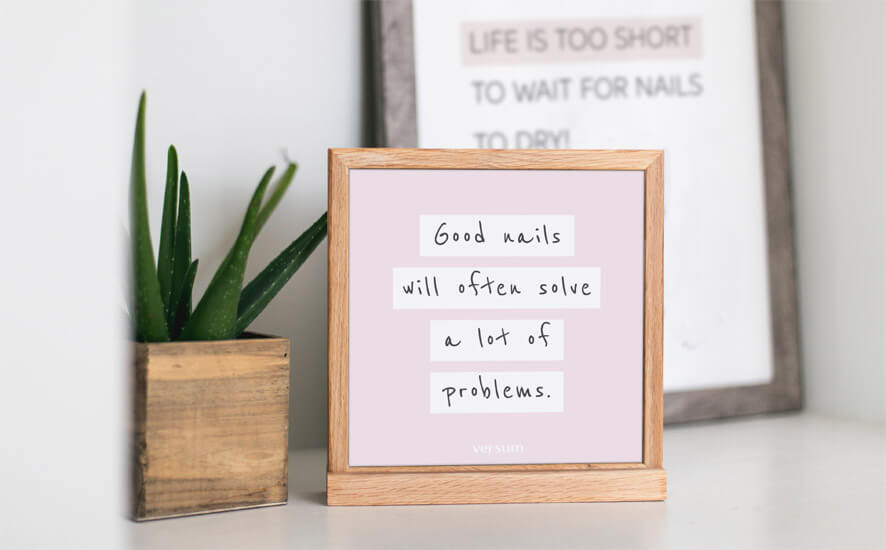 You may love them, you may hate them, but one thing goes without saying – funny nail tech quotes catch attention like nobody's business! They are an ace up your sleeve – you can use them to advertise your services, make your offers more interesting, spice up SMS messages to your clients, decorate your salon's interior, and much more. Usually, they are light-hearted, but sometimes they are more along the lines of nail inspiration quotes, perfect for salon decor and motivational social media posts. It doesn't matter if you run a nail salon, are a booth renter, mobile nail tech or work from home – there are nail pampering quotes to fit all tastes. So, let's take a look at the collection of the finest nail business slogans that will encourage clients to make their appointments as soon as possible.
Humorous quotes for nail salons
Cheerful manicure and pedicure quotes are an easy way to establish an upbeat atmosphere right off the bat. You can use them to make your social media posts more engaging and communication with clients more friendly. They also make great wall decor – you can go with a lightbox, wall decal or poster.
Tip: Get yourself a pack of free printable salon quotes you can frame and hang as your posters!
The only time a woman is helpless is when her nails are drying.
You can't buy happiness but you can buy nail art and that's basically the same thing.
Life is not perfect, but your nails can be.
So many polish colours, so few fingers!
Life is too short to have boring nails!
Nails are the only thing you can get into shape without exercise.
May your Monday be short, your coffee be strong, and your nails get compliments!
Making mistakes is normal – this is what acetone is for.
Doing nails is my cardio!
When in doubt, go for red.
Great nails don't happen by chance, they happen by appointment.
Don't waste a good nail day!
Keep calm and nail it!
Life isn't perfect – but your nails can be.
I'm not perfect, but my nails are!
I don't do drama, I do nails!
I make nail contact before eye contact.
It's all fun and games until someone breaks a nail.
I do nails, what's your superpower?
There's nothing a fresh manicure can't fix.
Inspirational nail salon quotes
Quotes for nail technicians don't always have to be quirky – you can go with something more motivational and inspirational. Such nail quotes are perfect for Instagram or Facebook if you are to create a more serious post, eg. one concerning your rebranding, welcoming a new team member or celebrating crossing your business milestone. They are not only good attention grabber, but also add more meaning to your post. Be careful though – use them sparingly as going overboard may make you seem pretentious! Here are some that you should try:
Imagination is the only limitation of nail art.
Nail art does not need to be perfect. It just needs to be you.
Your nails are a reflection of yourself.
Surround yourself with nail polish, not negativity.
Using inspirational nail quotes and cites from famous people associated with the world of beauty is also a fabulous choice. Tammy Taylor, the American nail educator and philanthropist that has been revolutionising the industry since 1983 is a real treasury of inspirational quotes – and so is Essie Weingarten, the founder of Essie Cosmetics. You can also reach for great nail cites from Prabal Gurung, the world-famous fashion designer, the American actress Holland Roden and the one and only Audrey Hepburn.
Your nails are a way to speak your style without having to say a word.
Tammy Taylor
Nails are not about being noticed, they are about being remembered.
Tammy Taylor
I've never seen nails going out of style.
Tammy Taylor
Your nails are not going to change the world, but the women who wear it will.
Tammy Taylor
There is so much beauty and elegance in a great set of nails.
Tammy Taylor
Your nails are like jewels – don't use them like tools.
Essie Weingarten
Nails take any old outfit and make it new.
Essie Weingarten
You're never fully dressed without a good manicure.
Essie Weingarten
When your nails are part of your outfit, they become more than nails. They become an accessory.
Holland Roden
Nails are the period at the end of the sentence. They complete the look.
Prabal Gurung
I believe in manicures.
Audrey Hepburn
No matter if you are creating a new marketing campaign, wanting to publish an engaging post on your social media fan pages or looking to renew your salon's interior, nail tech quotes are here to make your goals easier to reach. There is also something else that will come in handy along the way – Versum, nail salon management software that allows you to keep track of your business anytime, anywhere. From taking online bookings to running advanced SMS marketing campaigns, Versum is a multifunctional tool created with the needs of nail technicians in mind. Try it for free today!