Are your salon prices too low?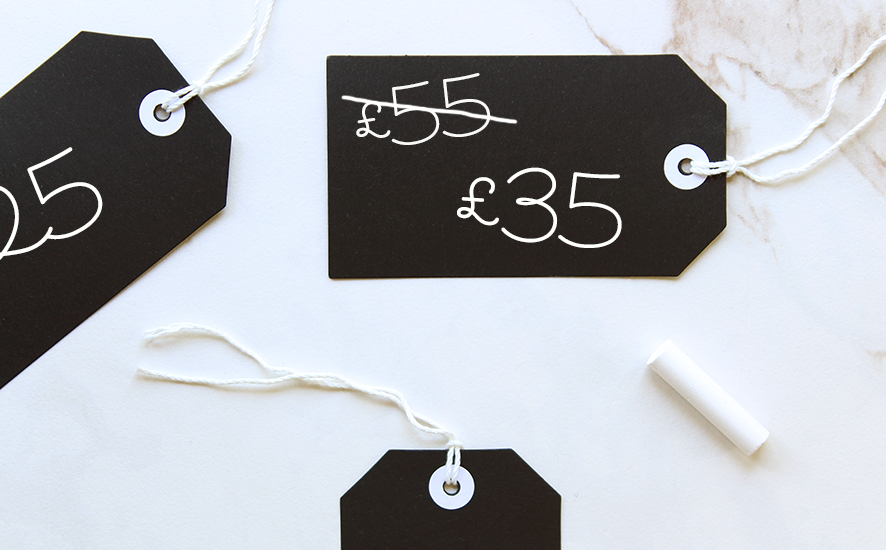 Has it ever happened to you that one of your favourite, long-term regular customers spills the beans and says, "I love your salon, but has it ever occurred to you that your prices are far too low"? If not, then that is no surprise. However, if this situation has arisen on more than one occasion, this may be a sign that you should look at your prices more carefully.
Don't clients love low prices?
Everyone enjoys a steal from their favourite business – a buy-one-get-one-free offer or an enormous discount to name the most common. So why make a fuss when someone mentions you have outrageously low prices? Shouldn't salon owners take this as a compliment? Providing an occasional discount or special offer here and there is an excellent way to keep clients visiting your business, but if the regular prices of your treatments and retail products are too cheap, you may be harming your business.
What can possibly go wrong?
When a client lets you know that your prices may be too low, take their words to heart. Only loyal and trustworthy customers will tell you this because they want to see their favourite salon prosper. But how can offering low prices affect you in the long term?
An increase in price-driven clients – we are all guilty of visiting the "sales" section in our favourite stores, but when your regular prices are much lower than your competitors', your business becomes a bargain hub.
Poor business image – if a client's first word that comes to mind when they hear your salon name is "inexpensive", then you should immediately start rebuilding your image.
Minimal revenue – in order for a salon to truly prosper, it needs to have a substantially higher income rate than an expenditure rate.
A loss in revenue – salons which make minimal earnings due to their low prices experience massive losses when creating discounts and offers.  
How much is too low?
Ever so often, you start a stocktake at your salon – the last bottle of Olaplex went into the bin, the bleach is long gone and you are out of foils, so you make a trip to your local supplier. If you feel that purchasing the required supplies is burning a hole in your wallet, you need to reevaluate your earnings. A prosperous salon should profit from selling products and services – compare your prices to that of other salons in your area and from there, calculate how much you can increase prices while remaining competitive. This gives the salon room to manoeuvre with its pricing, like when providing a discount.
Tip: A successful business should not experience a loss when discounting, only gain a smaller amount of profit.   
Start earning more!
Increasing the cost of your treatments and products should not happen overnight – you need to gradually implement these changes. Decide how much you would like to increase your prices by – calculate the cost of each individual product and service and from there, plan the percentage of your price increase. As an example, if a product costs you £50, and you would like to gain 45% extra profit from it, multiply £50 by 0.45 and add that to the £50, equalling £72.50. The same format can be used for raising prices on your services as well.
As mentioned above, implementing such changes must be done gradually. Once you have created a new menu, inform clients of your new prices on social media or by SMS and email via your Versum system. Price-driven customers will rush to your salon before new prices are introduced, but the benefits do not end there!
Tie clients to your salon – introduce a loyalty program!
It is unavoidable – your price increase may scare off a significant number of customers, but not your loyal ones, and it is mainly thanks to them that your salon is a success. However, there is a way to avoid losing clients and reward the most loyal ones – introduce a loyalty program!
Customers that visit your salon simply because they are looking for a quick bargain will be distraught to see a price hike on their favourite buys – but do not fret, with your Versum loyalty program, you have everything you need to keep them satisfied! With this tool, clients can collect points through purchases, referrals and reviews, and use them to pick up rewards at your business. Make sure to offer a variety of rewards, like products at your salon, treatments, gift bags or anything else that comes to mind. If a client has their mind set on a specific prize, they will work their way to getting it, tying them to your business while you make more profit!
Track your progress
Following your numbers before and after implementing your new prices is vital when it comes to tracking the effectiveness of your recent change. Although reports for the first few weeks of your price raise may show a slight drop, do not let them discourage you! You should begin to see a rise in revenue at least a month or two after you have introduced new prices. Your Versum salon system gives you the option to generate sales reports of your entire business or individual products and services. Additionally, you can also track your loyalty program's effectiveness and see if there is an increase in participants, referred clients or reviews on your page.
Do not forget – you worked hard to get to where you are now! Keeping clients satisfied is important, but your business needs to make a profit as well! By implementing a price rise, you begin to see an increase in revenue and you can rest easy, knowing that your business is prospering. And with the help of Versum, tracking your numbers and maintaining a high level of customer loyalty is done in an instant.