Everything you need to know about introducing a COVID-19 survey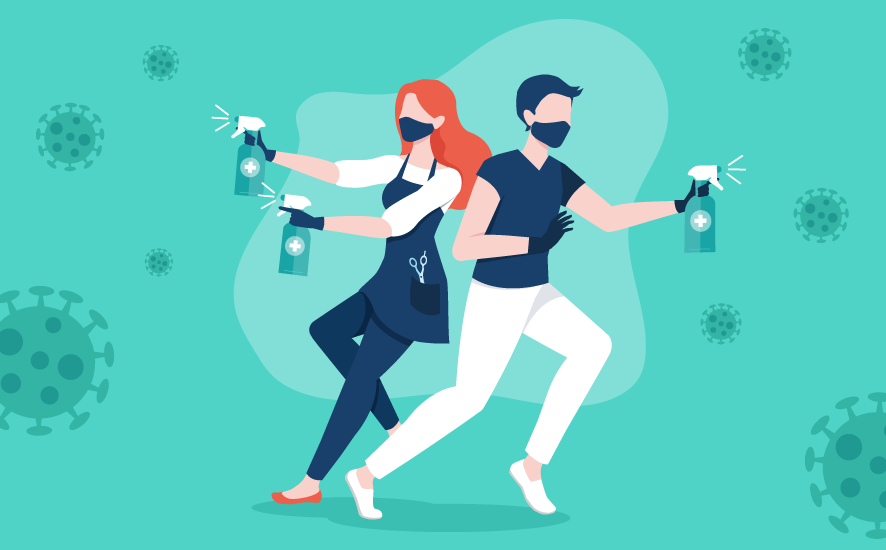 With the latest government guidance being introduced for the hair and beauty sector, more questions are being asked than answered, as specialists share their doubts and interpretations in online forums. Most of their uncertainties concern the issue of collecting information on their clients' health.
Versum's free Screening Questionnaire feature will make it easier for hair and beauty salons to remain compliant with the Health and Safety Executive's guidelines and save you significant time in handing out and collecting surveys. However, it is important that you're familiar with the guidelines as well. Should you introduce a COVID-19 health survey prior to each booking? Is this survey going to be enough for you to decide whether or not to deny a client their visit? Read on and find out!
How does the Screening Questionnaire work?
Just like prior to the lockdown, a client will receive an automated appointment reminder from Versum, along with a link to your survey. After clicking on it, the client will have to answer these four questions:
Have you had the recent onset of a new continuous cough?
Do you have a high temperature?
Have you noticed a loss of, or change in, normal sense of taste or smell?
In the past week, have you come into contact with a person suspected of infection or infected with Covid-19?
If your client has responded with a "yes" to at least one of these questions, then they are required to cancel their booking. If they have answered "no" to all of the questions in the survey, then they will be informed that everything is okay and that they can come in for their appointment. In the appointment details, you can see whether or not the client can be treated at your salon – however, you will not be able to view their responses. Why is the system set up like this? We'll be getting to that shortly.
What do the government guidelines say about surveys?
You are required to take measures to minimise the risk of transmitting the coronavirus and protecting the health of clients in your salon. It is recommended that you keep a record of your clients and visitors for up to 21 days, in order to track and reduce any possible outbreaks. Prior to each visit, the client must partake in a screening survey (which includes the above-mentioned questions) – if they show any signs of these symptoms, no matter how mild, they will be shown a message saying that they need to cancel or reschedule their visit for another date.
This covid questionnaire for clients will benefit you greatly in these three ways:
You'll know whether or not a client's visit can put you at a greater risk of infection
You won't collect sensitive data about your clients
You'll be taking steps to minimise the risk of COVID-19 transmission
Collecting surveys and personal data protection
Your clients' health history is very sensitive information and can be difficult to process. Unlike specialists in hair and beauty, health industry professionals have more refined rules that clearly state how such information should be handled. Unfortunately, such precise legislation is missing from the hair & beauty industry. Although collecting such data is not prohibited, if something goes awry (the customer may claim that their data has been breached or stored incorrectly), you may face serious legal consequences. To prevent this from occurring, follow one simple rule – only collect data essential for providing a treatment safely. This isn't the case when it comes to the coronavirus – all you need is the client's confirmation that they've been informed about your salon's regulations, as well as whether they have been given the all-clear.
What if a client lies or does not fill out the survey?
Sadly, there's nothing you can do if a client provides false answers on your survey – this is simply based on mutual trust. It's the client's responsibility to answer truthfully – you, on the other hand, are responsible for informing the client of any contraindications and to cancel the appointment if any occur, which is exactly the point of the survey – to prevent such situations from occurring. But what about waivers signed by your clients – do they have any legal value? Unfortunately, no, because a signature won't stop them from being untruthful about this important matter. Having clients sign waivers on the spot is also pointless, since a potentially infected client is already on the premises.
If the client does not fill out the survey after receiving it a few hours prior, try to contact them. This is important, because deliberately avoiding to fill it out is suspicious and getting to the bottom of this is essential in order for the treatment to occur. If the client simply forgot or overlooked the survey, then by reminding them, they may treat it more seriously. In this situation, get in touch with the client over the phone and inform them that if they responded "yes" to any of the survey questions, then they have to cancel their appointment. Either way, you should encourage the client to fill out the survey, so that you at least have this information stored.
We've created this client questionnaire for hair salons in order to ensure your safety, not only in terms of health but also in legal matters. This solution plays an essential role in your reopening – thanks to it, you will reduce the risk of infection, as well as the possibility of a breach in protocols. There's no need to send any messages – once the client completes the survey, they will be shown the results, as well as information about the precautions that they must abide by prior to and during their visit. Reopen your salon safely with Versum – sign up for free today!