Keep your salon going during the lockdown with virtual consultations!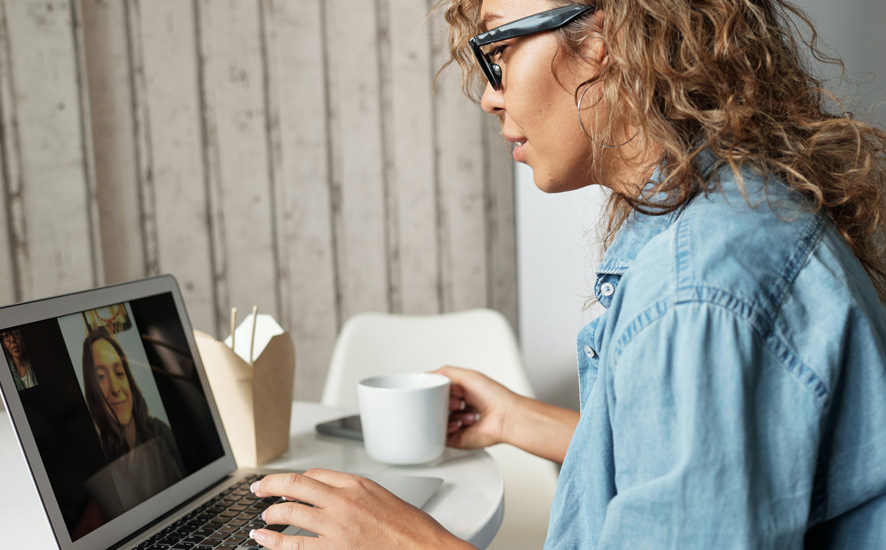 Do you know what is one of the most important benefits of getting a service done at a hair or beauty salon? You may think that the answer is obvious ("well… the effect of the treatment, duh?") but it's not so simple. Yes, a client books their appointment with a specific goal in mind, such as getting their brows microbladed or hair coloured, but in many cases, the whole experience of getting pampered is just as important. It's a well-known fact that people love personal attention. This is why a consultation before the appointment is not only useful for the service provider, as they can assess the situation and come up with a plan of action, but also for clients who enjoy being consulted. It's very amusing and even comforting to be a centre of attention every once in a while!
Now that the lockdown stopped regular appointments from happening, customers really crave that moment of being in the spotlight. What's more, depending on the personal situation, some of them may be even deprived of their regular social interactions with friends and family. Finally, unable to get their hair or nails done, they may be a little confused about their beauty routine and in need of some professional tips. Which is just a perfect opportunity for your salon!
How to organise virtual beauty consultations for your clients, step-by-step
Let's begin with the nitty-gritty – namely: the logistics of offering such consultations. They are fairly easy to organise, all you have to do is use your Versum account to enable bookings and find a channel to host your consultations on.
Step 1: Find a video-communication service that meets your needs
There are many options currently available on the market. Usually, they work in a similar way – the host creates a video meeting and provides participants with a direct link. When looking for such a service, focus on trustworthy applications that offer excellent security, good resolution, great noise cancellation and stable connection. We recommend using Google Meet, as it is renowned for its reliability and clear interface.
Step 2: Add consultation as a type of service in your Versum account
Log in to your Versum account. If you do not have one yet, it's a perfect moment to test-drive our system – you can start your free trial without any obligations in just a few seconds. Once you are logged in, add "consultation" as one of your services (learn how to do it). If you want to offer various types of consultations, with different time spans and/or prices, create a few different services (eg. "A virtual hair diagnosis", "A virtual hairstyling lesson", "A virtual makeup lesson"). Set their prices and durations, plan which employees will be providing them and add their descriptions.
Step 3: Enable online booking (for the consultations only)
Once the lockdown started, you most probably disabled the online booking option (learn how to do it). Now you should enable it again (learn how to do it), but only for the consultations. You can manually set the range of services that are available at your booking website, including and excluding them on a whim. All you have to do is determine the availability of a given service in its advanced settings section. You can also add an announcement on your online booking site (learn how to do it) that will explain the current situation to your clients and encourage them to book their virtual appointment.
Step 4: Activate the PayPal Payments add-on
Now you have to enable the PayPal Payments add-on (if you haven't done so already) in order to take online payments for the consultations (learn how to do it). Make sure you set the payment as "required" – this way, your clients won't be able to book a consultation without finalising the transaction.
Step 5: Add a new appointment reminder template
Now it's time to change the wording of your appointment reminder. However, do not replace your regular one – instead, add a new template (learn how to do it) that will become a default throughout the lockdown. Once the lockdown is over and you come back to your regular services, you will be able to easily switch it back. If you will have a fixed consultation channel (meaning – the link to the video meeting will always be the same), you can include it directly in the reminder.
Step 6: Plan messages with the link to the consultation (optional)
If you don't have a fixed consultation channel (the link to the video meeting changes for every consultation) you need to remember about sending it before each appointment. Don't worry, though – Versum will help you with it too! Use our advanced filtering of the customer base (learn how to do it) and use the "Have services purchased" filter to quickly find clients who booked consultations with you.
Virtual consultation ideas for your beauty business
What type of virtual consultation can you provide to your clients? It all depends on the sector of the beauty industry you are working in, as well as your customers' needs, your specialisation and personal preferences. Here are a few ideas you can take advantage of:
A hair diagnosis
A skin diagnosis
The perfect hair care routine plan
The perfect skincare routine plan
Common skincare mistakes
Common makeup mistakes
Bangs styling. How to frame your face – a lesson
Safe hair curling for beginners – a lesson
Safe hair straightening for beginners – a lesson
Quick, everyday hairstyling – a lesson
Hairstyling for special occasions – a lesson
Soft, everyday makeup – a lesson
Full glam makeup – a lesson
Blending eyeshadows for beginners – a lesson
The perfect eyeliner flick – a lesson
Red lipstick, black cat-eye – a lesson
How to make your makeup long-lasting – a lesson
Nail shaping for beginners – a lesson
Solid colour nails for beginners – a lesson
How to create a fitting accent nail – a lesson
What types of consultations are not the best idea?
Avoid hosting consultations that would encourage your clients to DIY just a little too much. Showing customers how to paint their nails with regular polish is totally okay, but teaching them about gels and acrylics is one step too far. Hosting a lesson on hairstyling is great, teaching cutting and colouring should be reserved for beauty school students. Remember that your main source of income is providing your clients with professional services – you want them to be able to maintain great results, not to become fully independent! What's more, a lot of products they would need to invest in are by nature professional-grade and hence – not supposed to be used by untrained individuals. Should any accident occur, you could be held liable and accused of professional negligence.
Tip: A virtual consultation gives you an amazing opportunity to pitch your retail products and encourage the client to purchase them in your online store.
Let your clients enjoy the second best thing to visiting your salon in person and offer them virtual consultations. All it takes is a little imagination – most probably you've heard your customers telling you many times that they would love you to show them how to style their bangs or paint nails with such a precision! Now that many of us crave some more interaction with other people and have just a little too much free time at home, your customers will really appreciate that. You can not only gain some much-needed revenue but also boost your clients' loyalty and ensure they will come back for your great reopening!