Knowing your client – the secret to increased sales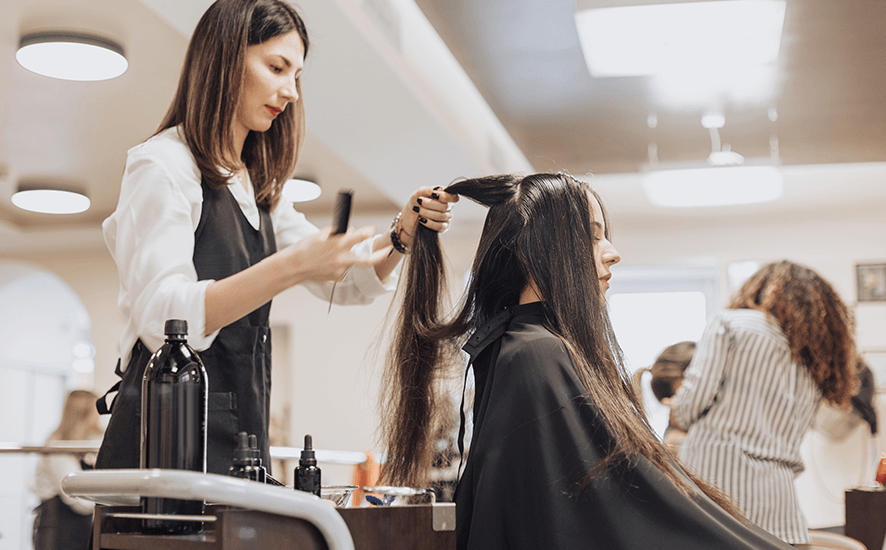 Knowing your clients' needs, preferences and habits is the secret ingredient to increasing sales in the beauty industry. However, how exactly can a specialist use this knowledge to encourage new clients to book treatments at the salon? Get to know your regulars and potential customers, and learn how to utilise that knowledge to boost sales like never before!
Why is it worth getting to know your client?
A thorough analysis of customer needs and behaviours gives you plenty of valuable knowledge that you can use in a variety of ways. This information will help you:
find which group of clients takes advantage of your services most often, how they found your business, what treatments they will most likely choose;
reach people similar to your loyal customers, based on their preferences;
increase sales among current clients;
significantly reduce the cost of advertising by reaching your target audience, who are potentially interested in your services;
Each of these areas requires the use of individual techniques and tools, which will be explained further.
What should be known about your clients? Where can you get this information?
1. Data contained in the customer cards
One of the most obvious sources of information about your customers is your Versum customer database, however, do not focus just on their booking history – focus on information such as:
how they found your business – this will help you learn which types of ads work best for you;
client occupation – this will help you in choosing the right treatments, but also provide valuable information about the client's lifestyle;
treatment history – you will know which services interest them the most and which ones you can recommend;
product purchases – knowing which products your clients purchase will help you identify other similar products you can recommend.
2. Information acquired from a conversation or resulting from a customer's behaviour
Your client's initial visit to the salon is the perfect opportunity to get to know them – ask relevant questions during their consultation, throughout the procedure and when saying goodbye. It is important to take advantage of each of these opportunities to learn about the client as much as possible. Of course, this must be done in a subtle manner, so make sure not to bombard them with questions. From these discussions, you can gather two types of information:
About the client, their lifestyle and preferences – it is usually possible to read between the lines of loose conversations that take place during a visit to your salon, like when a client:
tells you about a crazy shopping, exotic trips, etc. – there is a chance that this person may be interested in a high-end treatment,
found out about your salon from the gym next door – this may inspire you to form a partnership with the facility,
has a stressful job – they may be interested in a soothing massage, or any other relaxing treatment,
has an important upcoming event, such as a wedding – this creates the perfect opportunity to offer a special package of pre-wedding treatments, etc.
Relating to your salon – ask the client:
How did they find out about your business?
Have they seen your posts on social media?
What they would like to see on your menu?
Did they have trouble getting to the salon, booking a service online, etc.?
Keep in mind that the client visits your business to book a service, but also to relax. Do not overdo it with a multitude of questions – get to know your them gradually!
However, chances are that they may be served by another staff member in the future, and any new information should be saved immediately after the client's visit. The most convenient way to do it is in the Versum, salon management system. Make sure to mark down even the most minute pieces of information, such as their favourite tea or show. The next time that customer visits your business, have their drink ready and ask about the latest episode – they will appreciate the fact that you listen to what they say, and in turn, become your loyal regulars.
Your experience in working with clients allows you to better understand and familiarise yourself with them and their needs – but did you know that the same is possible via social media? Gaining information during direct contact with the client is relatively easy, however, when it comes to social media, things get technical. Chances are you or your staff post pictures, offers, events and new services at the salon on any number of social media platforms – but how exactly do you know what clients are interested in? On networking sites such as Facebook and Instagram, it's possible to generate analytical information on your posts – anything from views to activity and comments. Using this data, you can:
learn what interests clients – no likes or comments means your post had little value to them;
launch effective marketing campaigns – a post on a new treatment offered at your salon that has received many likes or comments means that clients find it desirable – start promoting it!
If you are feeling confident, then try Facebook's Audience Insights feature, which provides detailed information about your fans, such as gender, age, location, relationship status, and type of work they do. This information is extremely valuable, as it allows you to create less-expensive ads and better match the content to the preferences of your recipients.
4. Reviewing client treatment history and marketing campaign effectiveness
To get a full picture of the popularity of individual treatments and the effectiveness of selected promotional campaigns, it is worth combining the Internet data with information from your Versum system. You can check which promotions have the most client interest and what treatments customers have booked in the past.
By analysing this data, form client groups based on it. In your Versum system, create client groups, and by using the messaging feature, send them offers for products or services similar to those they have purchased in the past. Knowing their preferences and which offers work best for them, you can increase the effectiveness of your promotional campaigns and your revenue.
For individual clients that do not fall into any specific group, creating individually tailored offers would be recommended. They will be much more effective than mass messages sent to everyone. Like most specialists, you will probably be short on time to look over each individual client's record, so set a limit to analyse at least 2-3 clients a day. If you notice certain patterns between customer groups, consider using the Marketing Automation function – which sends e-mail or text messages to clients based on criteria such as a specific product or service purchased, or not booking a service for some time.
5. Customer feedback
Most salon staff do not take into account that client feedback is an important source of information. Any negative opinion is a sign that something in your business may need improvement. In turn, each positive note encourages other people to purchase your products and services.
It is important to quickly react to feedback on your salon, especially if it is negative. You can receive feedback from clients by:
direct conversations – although it may not always be 100% true;
anonymous surveys at the salon or online;
monitoring opinions posted in social media and internet forums – note that negative reviews should be addressed immediately, as they are visible to a large number of potential clients.
Good knowledge of your clients helps you identify what offers, services and products would be of interest to them, allowing you to effectively pinpoint your target audiences with marketing campaigns, which in turn increase sales. Customers like to feel cared for and avoid wasting time on things that are not of interest to them. The better you know your clients, the more sales you can expect to see!