Marketing a hairdressing salon – effective salon advertising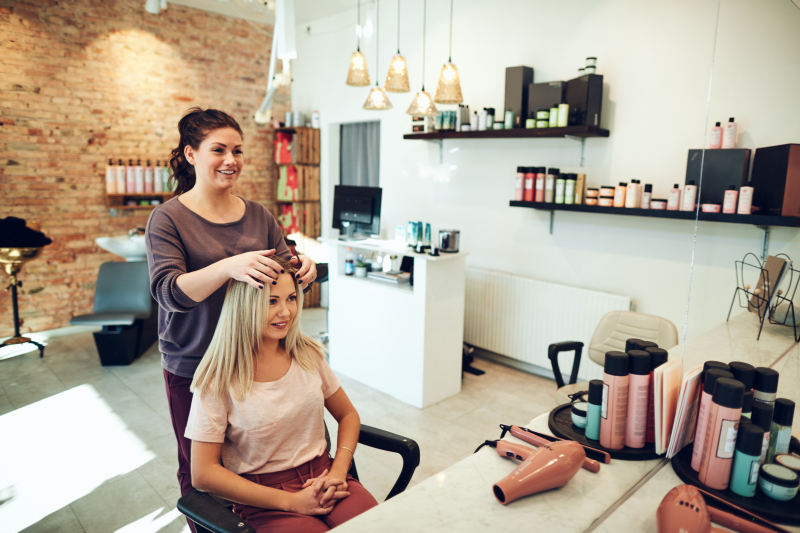 Marketing a hairdressing salon is an extremely important element of the functioning of such a business. When correctly implemented, many essential marketing objectives can be achieved: creating the company image, increasing brand awareness, reaching new customers, as well as consolidating positive relations with existing clients. How exactly can one conduct effective marketing activities in a hairdressing salon?
Contrary to appearances, you do not need to be a specialist to market your hairdressing salon effectively. What is important is to use the right tools – such as a good system for a hair salon with marketing functions. It is also worthwhile to remember several fundamental principles:
to ensure consistency,
to maintain high quality and cohesion of the message, i.e. all content published publicly,
to strive towards being original (in short: take example from good practices, but do not copy),
To positively surprise your clients.
How to find the right name for a hairdressing salon?
The basis for the planning of marketing activities for hairdressing is the creation of the brand's outline – which attracts customers' attention for an extended period of time. One of its basic elements is the name. Contrary to popular opinion, choosing a name for a hairdressing salon is not an easy task, and it should be approached with a great deal of care. A good name (just like a company logo) should evoke positive associations, reflect the quality of the services provided, be easily remembered, be relatively short and easy to pronounce, so that your customers can always recommend your establishment to their family and friends.
How should you advertise your hairdressing salon?
The choice of specific marketing activities depends to a large extent on the size and location of your hairdressing salon, as well as on who your target customers are. However, regardless of all these aspects, the groundwork for any business is the adequate preparation such as the sign above the door, leaflets or even the shop front.
The sign and the entire shop front will operate as a direct advertisement – they will attract the passersby and people living in the vicinity of your salon. Leaflets, in turn – distributed outside the salon, for example in busy parts of the city – will make it easier to provide detailed information about your services to people who have not yet come across your business. It is also a good idea to advertise your hairdressing salon in the local media as part of cross-marketing, i.e. cooperation with other local companies (not necessarily from the industry) that will recommend your services in exchange for you recommending them.
Effective marketing of a hairdressing salon
A crucial element of effective promotion are also e-marketing activities – i.e. advertising the hairdressing salon on the Internet. Modern clients are increasingly looking for beauty services online, so it is very important that your company has its own website or at least a virtual business card and profiles in social media (Facebook, Instagram).
Remember: the shorter the distance between the client and your company, the greater the chance that they will actually use your services. Therefore, make sure that every Internet user who visits your website finds a detailed description of your hairdressing salon, transparent information about the offer and prices, as well as the opinions of your existing clients. An excellent solution is also adding the online booking option to your website or Facebook profile, which will enable your clients to book visits around the clock, without the need to telephone the salon directly.
In addition to promoting your hair salon and attracting new clients, it is also critical to maintain good business relationships with your regular visitors. This includes the need to maintain excellent client communication to make sure they do not forget your company, as well as introduce ways to encourage their loyalty, such as a loyalty program. Both of these prerequisites are easily achieved with the Versum system, as it includes functionalities which help you run the loyalty program, send bulk messages, and conduct the automatic marketing (the system independently sends text messages or emails to clients who have not visited your salon for an extended period). It is an excellent tool which will make it much easier and more effective to conduct marketing activities.