Nail salon furniture and equipment starter kit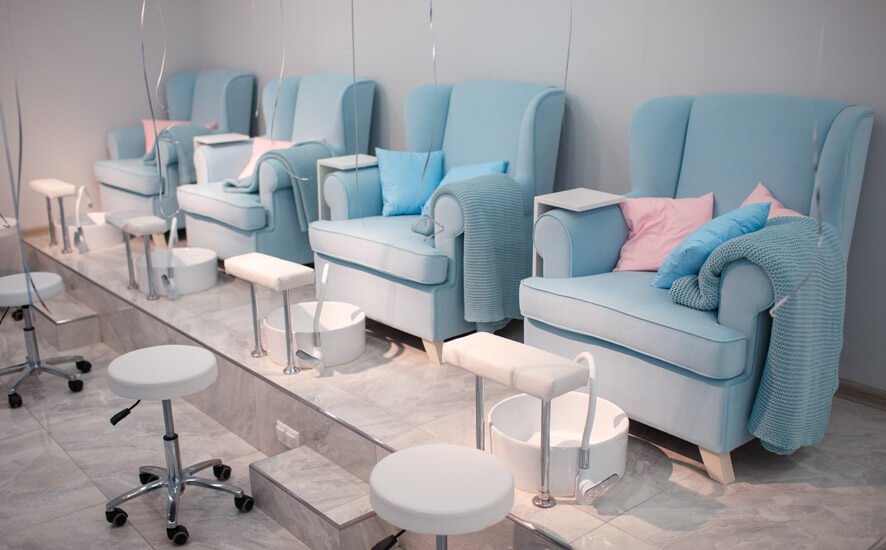 Opening your own nail salon is quite a challenge, as there are so many things you have to remember about. From establishing it legally to renting a suitable space, it's easy to get overwhelmed by the sheer number of responsibilities. One of the issues you will encounter is deciding on what kind of furniture is absolutely necessary to start operating, as nail technician furniture can be terribly pricey (if you have checked already how much are nail salon chairs or tables, then you surely know the drill), so it's good to know in advance to properly plan your budget.
But worry not – the Versum team is here. Without any further ado, let's take a look at the handy list of furniture and equipment you need if you are opening a nail salon or if you are planning to offer manicure and pedicure mobile services!
Nail salon furniture
Let's begin with stationary businesses. Regular nail salon or nail bar furniture usually consists of equipment needed for providing particular treatments, as well as additional appliances necessary to ensure the comfort of both your clients and employees (such as reception desk or waiting area chairs).
When deciding on your salon equipment, it's wise to also plan through the way you will manage their availability. The more employees you are going to have, the more complicated the situation will get. Even if you are using nail salon software for managing appointments, simply booking visits just won't do. Fortunately, Versum software delivers a free resources add-on that ensures that equipment and rooms will be booked automatically during appointment scheduling, eliminating the risk of booking multiple concurrent appointments that require the same resources. See how it works!
Manicure furniture and equipment:
Manicure stations – these should include a manicure table where you can keep the nail polish, brushes and other tools you'll need. Ideally, a nail salon table (or desk) should also come with lighting and motorised vents to suck fumes.
Customer chairs – nail salon chairs for clients should come with an adjustable height lever, durable gas lift and silent, easy-roll casters.
Manicure technician chairs – they should be ergonomically designed and made of high-density foam cushions for comfort and support. Make sure they have adjustable height options, as this is absolutely necessary for providing treatments.
Manicure curing lamp – UV and/or LED.
Pedicure furniture and equipment:
Pedicure customer chairs – there are basically two types of pedicure chairs – "piped-in" (with plumbing) and "pipeless" (without plumbing). Additionally, you can opt for chairs with more amenities, such as jets in the bowl which render a water-based foot massage, cup holders or heating elements in the bowl to help keep a client's feet warm.
Pedicure technician chairs (stools) – they should be comfortable, made of high-density foam cushions and have an adjustable height.
Pedicure trolleys – a nail technician cart should provide plenty of places to store all the supplies, preferably have a couple of drawers and a partitioned work surface.
Pedicure curing lamp – UV and/or LED.
Additional furniture and equipment:
Reception desk
Waiting area chairs
Cash register
Towel warmer
Tool sanitiser
Laundry equipment
Additional lighting (standing or clip-on lamps)
Nail polish display
Mobile nail technician furniture
If you are a mobile nail technician, you have to be very flexible with your furniture and equipment. Depending on your budget and overall principles, you can be fully independent and bring along portable versions of standard salon equipment, or carry only the necessities, making use of the client's chair or tables.
Mobile manicure furniture and equipment:
Portable manicure table – if you don't want to use the customer's desk, you can bring along your own mobile nail table. They are foldable, often come with sturdy carrying bags for storage, have rolling wheels and usually include a few handy drawers. There are multiple types of portable nail technician tables, from ones transforming into little chests to ones you fold just like an ironing board – whichever style you decide to go for, make sure to focus on the sturdiness of the manicure desk itself. You don't want the table to fold suddenly in the middle of the service!
Portable technician stool – these are foldable little stools you can carry with you to your clients. Their main benefit is that you can adjust their height to make your work easier and more comfortable – utilising your client's furniture may force you to stand hunched over them throughout the whole appointment.
Portable manicure curing lamp – as opposed to ordinary ones, they are designed to be carried often, therefore are more sturdy and usually include a solid carrying bag.
Mobile pedicure furniture and equipment:
Portable pedicure spa bowl – one should include a removable foot tub that can be filled at any sink, easy-roll casters and preferably contoured footrests with adjustable height centre leg support.
Portable technician stool – once again, it's best to carry your own, foldable stool that allows you to adjust the height.
Portable leg rest – an adjustable footrest, preferably also foldable.
Portable carrying case – preferably on cartwheels, as a replacement for a regular cart or trolley.
Alternatively, you can go with an entire all-in-one portable pedicure station that includes a seat for the client, an adjustable leg rest, a spa bowl and a few handy drawers.
Additional furniture and equipment (you don't have to carry to the client):
Towel warmer
Tool sanitiser
Laundry equipment
Preparing a furniture starter kit for your nail business is not an easy task. Simple nail technician desks start at £150 and can only go up. Solid pedicure chairs rarely go under £1000 (although you can find plain pedicure stations for about £300). Furniture for mobile techs may seem a little more reasonable – you can find portable nail tables under £100 and portable pedicure stations for about £200. Nonetheless, you have to prepare quite a budget to even begin offering your services, and going for the cheapest options does not always make the cut. You have to remember that this pedicure chair or manicure table will be your most often used money-making tool, so it has to be dependable. Another tool that should be dependable is your salon software – this is why it's about time to give Versum a try.
Try Versum for free