Should you raise your prices? A salon dilemma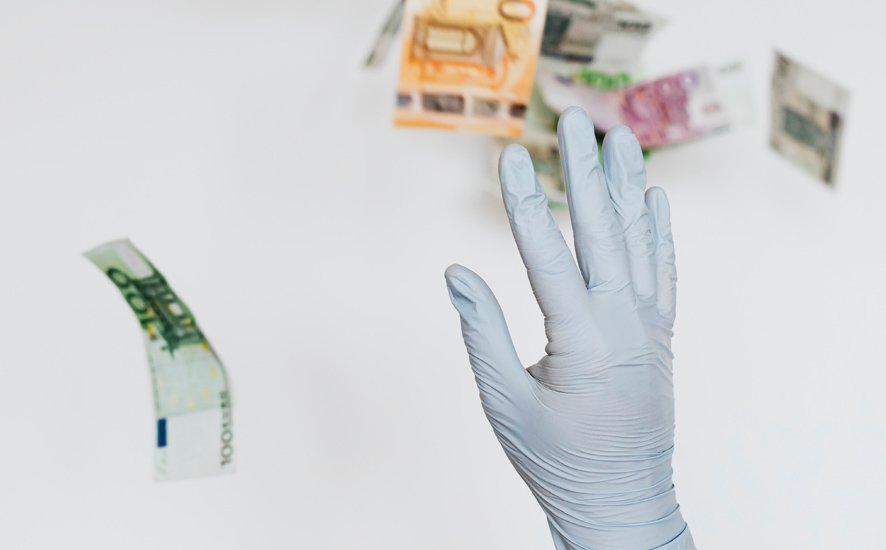 Like most hair and beauty specialists during the lockdown, you've probably had your fill of Netflix series and ice cream for at least two lifetimes. By now, the anticipation to get back to treating clients is practically gnawing at you – you've planned out salon protocols to implement after your reopening and you're in regular contact with your clients to ensure that they don't forget about your business. There's just one elephant in the room that needs to be addressed – your pricing once you reopen.
The two schools of thought
There are two ways of pricing your treatments and products once you reopen – on one hand, you can leave your prices as they were prior to the lockdown – on the other hand, you can increase your prices. No matter which option you choose, both come with positive and negative effects that you should take into consideration before making a final decision – here's what you should know!
Fixed prices
Many things are going to change once you reopen your hair or beauty business – chances are you'll have to implement strict rules regarding personal hygiene of both staff and customers, limit the number of bookings and staff work times. Most importantly, however, your clients are going to rush to your business like never before. Once everything goes back to normal, your customers are going to want to spend more time outside of their homes – and who wants to go out in public with a quarantine fringe cut or an 80% regrowth disaster on their heads? But there's one thing you need to take into account, and that's job loss. Clients who lost their jobs due to the coronavirus epidemic are not going to be able to afford pricey treatments or price hikes, at least not until their situation stabilises. If you decide not to raise your prices, here are some of the benefits you can expect to see:
More bookings – customers will be more likely to book themselves a visit to reasonably-priced businesses, rather than go to salons that have significantly increased their fees.
Improved customer loyalty – your customers will definitely appreciate you not raising your prices once the lockdown is over. They'll see that you're understanding of their current financial situation and will be more likely to return to your business.
More new clients – chances are your loyal clients will get the word out about your business, which will reach the ears of potential clients. Additionally, new clients will be in search of less-expensive salons to visit, and yours will definitely be on their radar.
Although these benefits look tempting, keeping your prices fixed also comes with some drawbacks – here are some you might encounter:
Less profit – with price increases on necessary retail and backbar products, as well as having to pay staff (if you have them), bills, rent and insurance, you will have significantly less profit made for your personal expenses.
Risks – although you'd be doing a great favour for your clients by not raising your prices, what certainty do you have that this will attract more customers, improve their loyalty or increase the number of bookings?
Price increases
Your grand reopening is going to be profitable for you, no matter whether or not you choose to keep prices as they are or increase them. However, bear in mind that your customers are going to need a lot more work bringing their hair, nails, lashes or brows to their former glory, so you'll be spending more time treating each client, you'll probably have to invest in more hygienic products (plastic seat covers, face masks, gloves, as well as antibacterial and virucidal products), and let's not forget that salon supplies have also significantly increased in price, so for some of you, raising your prices is a natural course of action. Additionally, it is highly likely that for some time, you won't be able to provide time-consuming chemical treatments, such as balayages, in order to minimise the time each client spends in your chair. In this case, your main source of income will be from trims and other simple services – which gives you another reason for raising your prices. If you decide to go this route, here are some of the benefits of doing so:
More profit – each treatment or product you sell will bring you more profit, allowing you to pay any outstanding fees (rent, bills, etc.), as well as being able to put aside money, in the case that any new situations were to arise.
Less to worry about – with financial stability, you'll be able to rest easy, knowing that you're less likely to lose your job.
Cementing your business image – if you've been planning on raising your prices for some time now, this might be a good time to do so – although clients might not be too pleased with this, they understand that you need to make a living as well. Plus, you're a certified specialist, and having bottom-tier prices doesn't make your business look professional.
Being able to make a significantly higher profit is definitely one of the strongest benefits for raising your prices, however, there are a few disadvantages of doing so, namely:
Fewer bookings – although you'd be making more profit from each treatment and product sold, the number of bookings might drop. Clients who have lost their jobs will probably not be looking to getting treated at pricey salons – instead, they'll probably visit less-expensive businesses and choose simple treatments.
Customer loss – throughout the years, you've probably gained a good number of loyal customers who loved visiting your business regularly. However, those clients might feel betrayed if you increase your prices, knowing that they're in desperate need of getting treated, but are not doing too well financially.
Tarnished reputation – customers who feel betrayed by your price increase might leave negative reviews on your business, thus making it more difficult to gain new clients.
Risks – by increasing your prices, you make more profit, but what certainty do you have that you won't lose clients, tarnish your reputation or have less bookings?
A third method
As you can see, both decisions come with their fair share of benefits and disadvantages for your business – however, you may want to try a third option. Once you reopen, go with either raising your prices or keeping them fixed for at least two weeks. With the help of Versum salon software, track your sales during this time, using the statistics feature. If you've decided to increase your prices, check your sales reports to see how your products and treatments are selling – if the numbers are unsatisfactory, consider bringing your prices down and see if this has increased your sales. If your prices remain fixed, track your sales and consider raising them if you feel that they're too low. Once you do so, carefully track your reports and compare the earnings you've made prior to and after raising your prices.
Versum's in-depth statistics will help you to decide your next decision regarding setting up your prices. See for yourself how a reliable salon manager can help you track your earnings and better-monitor your business as a whole. Sign up to get your free, fully-featured account today!