Spacing and disinfection protocols for hair and beauty salons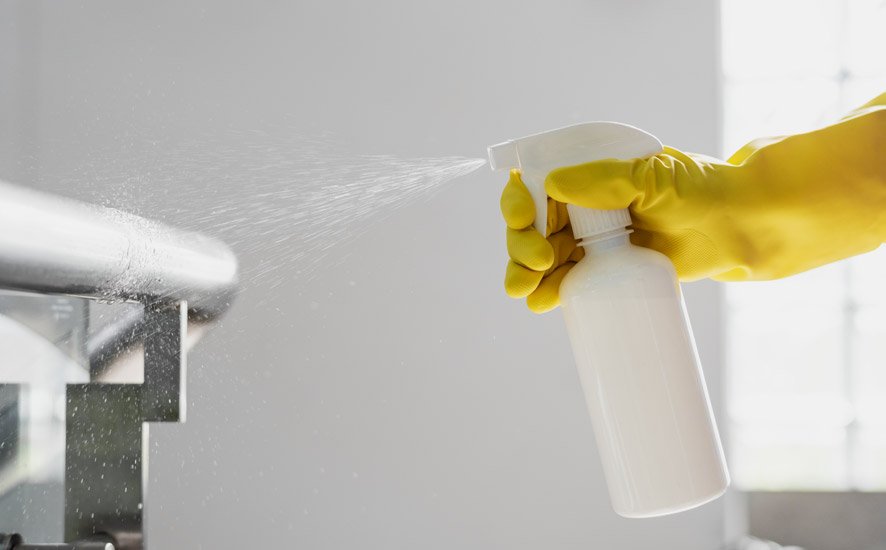 We've already discussed the importance of implementing safety protocols in your salon once the lockdown is lifted and we wholeheartedly encourage you to get familiar with these first. Today, let's talk about the ways you can better prepare your salon for a post-lockdown reality in a more literal sense – arranging the space and taking care of disinfection in your hair or beauty salon, so it meets safety requirements. What should you take into account before you start reinviting clients to your business?

Salon station spacing
The element that is touched upon most often is ensuring that clients will be separated from one another and that the service provider will keep their distance as well (whenever it is possible). The required distance is 2 metres, or 1 metre with risk mitigation.

Workstation arrangement
Before you open, you should first begin by arranging your workstations. Make sure that the chairs are placed at least six feet apart from one another. Help yourself with a measure or a meterstick – don't guesstimate! Remember to measure the distance not from the client's chair itself, but from the place where the stylist is going to be at most times – it's better to overestimate then the other way around.
Station reorganisation
All products have to be kept in closed containers that can be disinfected. All unnecessary items, including flowers or other elements of decor, should be (temporarily) removed. Regularly clean and disinfect chairs, headrests and armrests (harsh disinfectants can damage leather chairs and cloth chairs cannot be disinfected – use a plastic covering instead). Clean and disinfect all reusable tools and any other items used in connection with servicing clients and store them in a closed area.
Reorganising shampoo bowls
If it's possible, wrap shampoo bowls in plastic covers and discard them before each client arrives. Naturally, all bowls, hoses, spray nozzles, foist handles, shampoo chairs and armrests have to be disinfected regularly. Any products that have been stored in an open container must be removed.
Reception area reorganisation
Get rid of all unnecessary elements, such as magazines, newspapers, service menus and elements of decor. If you have a cloth chair, consider replacing it for one that can be properly sanitised, and if that's impossible, use a plastic cover. Regularly disinfect the reception area, and consider installing physical barriers, such as clear plastic sneeze guards.
Additional trolleys
Each customer should be serviced with an individual set of tools that should be sanitised as soon as the appointment ends. This is why it's a good idea to prepare a separate trolley for each station (if you don't have them already) – it leaves no room for error, like in the case of accidentally using another stylist comb or scissors.
Floor tapes
You are required to utilise tape to better define the "zones" in the salon. It is a great idea, as it makes navigating around the place easier for both your clients and team members. Using tape, you can designate the area of individual stations, the way to the bathroom or shampoo station, the reception area and so on. The traditional alert tape in black and yellow (or white and red) will certainly get noticed, however, if you're worried that it may be a concerning sight for your clients, you can find tape in numerous colours and even designer patterns. Just make sure it serves its purpose!
Ventilation
Before you reopen, it's crucial to make sure your ventilation works properly. You should invest in high-efficiency air filters, if you haven't already, and increase ventilation rates. Fresh air must be circulated – ideally, the rates should be 100m3/h per hairdresser. Finally, open windows and doors whenever possible – the more fresh air, the better, for both your health and well-being!
Required access
Your clients and staff have to be allowed to use the toilet – it's a truism, but it's especially important now. There are protocols to follow when maintaining this area as well.
Toilet
Customers have to be assured of safe access to the toilet. There should be only one person allowed in at a time. Paper products should be stored in a closed cabinet and you have to provide antibacterial hand soap, warm water and disposable paper towels. Place a trash can by the door and remove all unnecessary items, such as flowers or other elements of decor. Hang up a sign or poster for raising awareness for good handwashing techniques and maintaining hygiene standards. Naturally, ALL toilet surfaces including floors, sinks and toilet bowls should be disinfected regularly.
Emergency room
It would be a perfect situation if you were to designate a small room that can be closed and separated from other salon areas, in case any of your employees or clients started showing symptoms of sickness. The protocols for what to do in such situations recommend moving the person in question to a separate room, after which they should call NHS111 from their mobile (or 999 if they are seriously ill or their life is at risk). The room should be equipped with proper ventilation and have a window that can be opened afterwards. If you don't have such a place, it's important to prepare a spot where the person with symptoms can wait for the help, and at least six feet away from the rest of the clients and employees.
Sanitisation protocols and disinfection tools
When it comes to salon disinfection, let's be honest – you are going to have a lot of work.
You have to thoroughly clean and disinfect the whole salon prior to the reopening – including all surfaces, tools and linens, even if you have cleaned everything before you closed.
Disinfectant for washing tools must be mixed and replaced daily.
Observe the contact time on labels of the disinfectants – you have to meet the time requirements for them to work properly. For sprays, it's usually 10 minutes, for wipes it's 2-4 minutes.
Disinfection is for hard, non-porous surfaces (glass, metal, plastic). Soft or porous surfaces (such as cardboard) cannot be disinfected properly and cannot be reused.
Laundry should be washed in hot soapy water and dried completely at the warmest temperature allowed. Used or dirty linens should be kept in an airtight container.
All areas should be washed and sanitised regularly, including phones, computers, cash registers, retail products and so on.
Clean and wipe all door handles and other surfaces that are regularly touched by your clients and staff. Preferably use disinfectant wipes.
All unnecessary items, especially ones that cannot be sanitised properly, should be removed before the reopening.
Recommended salon hygiene products and disinfection tools
Finally – a few words about products and tools that will make the processes much easier and safer.
Provide salon hygiene products for clients and staff
Both your employees and clients should have access to hand sanitisers and tissues – and additionally to warm water, antibacterial soap and disposable paper towels in the restroom. Staff members should also have access to disinfectants (such as salon disinfectant sprays, liquids, powders and wipes) and be trained on how to use them.
Choose the right sanitisation products and disinfection tools
Choose disinfectants that are EA-registered and labelled as bactericidal, virucidal and fungicidal. Visit the Environment Agency's website for more information.
Switch from paper to digital tools
Paper is one of the "soft surfaces" that cannot be disinfected and has to be thrown out after each use. This makes running your salon with a paper notebook nearly impossible, or at the very least – extremely wasteful. Consider switching to a digital tool – Versum offers a wide range of features that will help you to get your business back on its feet before the lockdown is lifted (with features like online vouchers, soon-to-be-introduced online shop) and after the great reopening (online booking, appointment reminders and much more).
Tip: For the latest reopening regulations, see the government's official website.
Versum's clients are making a profit even during the lockdown – and preparing themselves for an exceptionally busy season. Start your free, two-week trial and see how much easier will be managing your business in the post-lockdown reality with your digital assistant!