The best spa quotes that will invite clients for a good pampering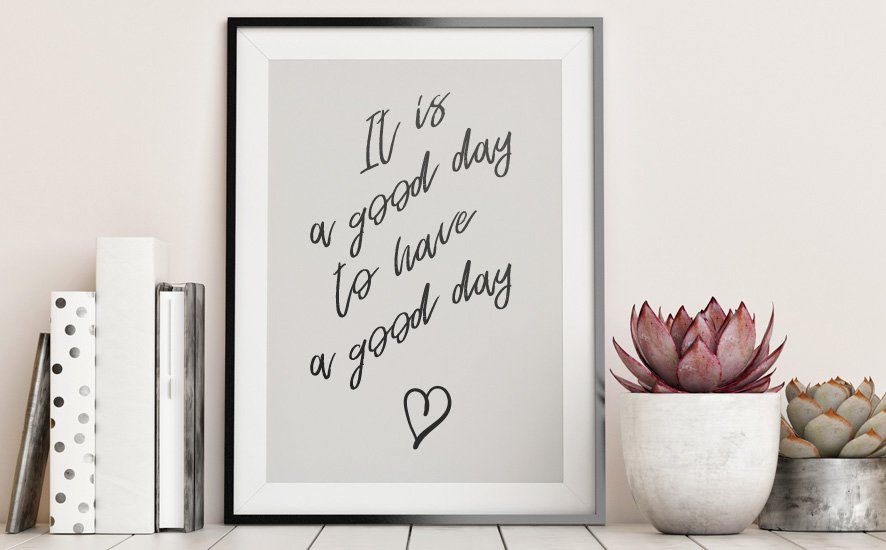 You see them every day on your Facebook or Instagram news feed – inspirational quotes on photos with beaches and sunsets truly rule the Internet. Sometimes you probably roll your eyes, seeing the same cheap, old joke or an over-the-top poetic cite for the fourth time that day, but no one can deny it – quotes catch attention like nothing else. If done right, they are the perfect way to decorate your reception, spice up your social media fan page and even give a little twist to messages you send to your customers. Let's take a look at some great spa day quotes that will complement your salon and figure out how to use them in the most efficient way!
Inspirational quotes
A fitting cite from an artist or a beauty icon is a good idea for a social media post. If you are having a slow day, want to publish a little update but have no idea for the content or just want to add more meaning to your post, begin with an inspirational quote.
Always double-check the author, as sometimes spa quotes are signed incorrectly or even not signed at all, and it is very unprofessional to not credit the quotee. Also, make sure the author is someone you want to be associated with – if you do not want to be controversial, avoid citing questionable sources. It may seem like a small thing, but citing eg. the celebrity known for a very unhealthy lifestyle may rub some people the wrong way and make them question your professionalism.
Here are a few ideas for inspirational quotes:
Do something today that your future self will thank you for.
– Sean Patrick Flanery
Nothing makes a woman more beautiful than the belief that she is beautiful.
– Sophia Loren
Massage is the only form of physical pleasure to which nature forgot to attach consequences.
– Robert Breault
Beauty is how you feel inside, and it reflects in your eyes.
– Sophia Loren
A healthy body is a guest-chamber for the soul
– Francis Bacon
The greatest gift you can give yourself is a little bit of your own attention.
– Anthony J. D'Angelo
The secret of staying young is to live honestly, eat slowly, and lie about your age.
– Lucille Ball
The time to relax is when you have no time for it
– Sydney J. Harris
Cheerful spa quotes
Short, upbeat phrases will be perfect for your decor! You can put them on a personalised wall decal, lightbox or poster. They are an easy way to put walk-in clients in a good mood and establish a cosy atmosphere. Such quotes don't even have to be directly related to your business, but rather can refer to positive emotions, feelings and impressions.
Here are a few ideas for cheerful quotes:
It is a good day to have a good day!
Do more of what makes you happy
Relax, refresh, recharge
Spoil yourself today
Happiness looks gorgeous on you!
A smile is the most beautiful curve on a woman's body
Being happy never goes out of style!
Quirky spa quotes
Who doesn't love a pinch of spice from time to time? Playful, slightly sassy quotes can be great for decor in a salon with a more easy-going atmosphere. Furthermore, they are a great idea for a Friday post on your social media fan page and even for a fragment of a message in a promotional campaign! Just imagine: you are sitting in your office on a cold Monday morning, stressed, tired and low on motivation. Then you get an SMS from your favourite spa: "Just relax – I got your back! (And legs, arms, shoulders, hands and feet). Sincerely – your massage therapist! Come today for a full body massage with a free aromatherapy enhancement". Wouldn't you feel tempted?
Messages like this are perfect because they both catch attention and induce pleasant feelings. Also, they can be very situational, as you can reference the weather, incoming events or holidays. Horrible puns are wholeheartedly welcome! What's more, depending on the circumstances, you can refer to a very specific treatment or service. If you particularly need massage quotes, just go for it – in many cases, these quotes are so universal, that you can put any treatment name in them and they will still work perfectly.
Tip: Use your Versum system to send different groups of your customers the same offer but with different starting words (cheerful quote or a quirky quote). Track the results – you will see which attitude your customers like more!
Here are a few ideas for quirky quotes:
The massage therapist doesn't ask questions, massage therapist understands.
Life isn't perfect, but your wax can be!
I hope your day is as smooth as your forehead!
Facials are a workout for your skin
Massage is my cardio!
Next time you think of beautiful things, don't forget to count yourself in
Monday: nothing a good massage can't fix!
As you can see, you can easily turn spa quotes into your interior design, part of your marketing campaign and even advertisement. One good quote says more than a thousand words, so take inspiration from our samples and let your creativity do the rest. Afterwards, check out how your new little marketing trick doing, using Versum – SPA software. Quoting Muhammad Yunus – "While technology is important, it's what we do with it that truly matters"!