Versum for tattooists – a match made in ink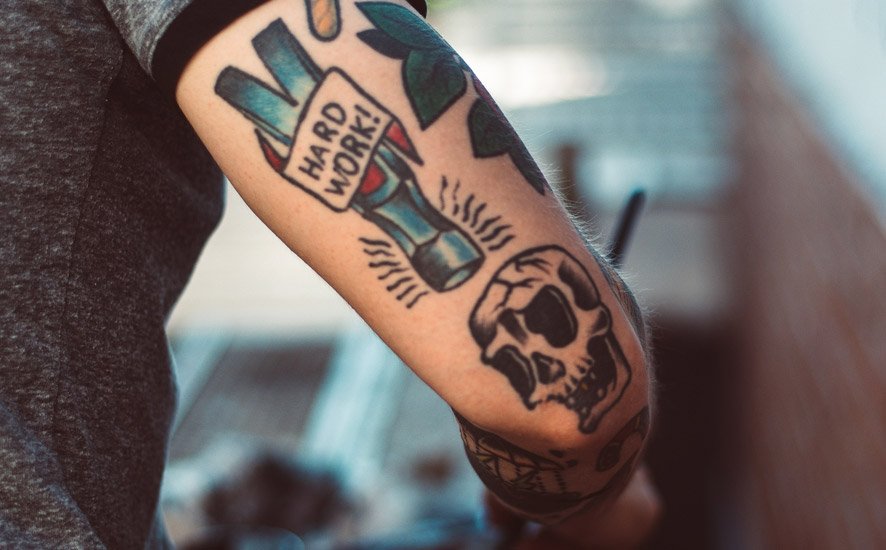 Whether you're the owner of a prosperous tattoo shop and regularly rent out chairs to local tattoo artists, or are one yourself, you know by now that your success isn't only dependent on your skills as an artist, but on how you run your business in the first place. Marketing, business reports and client relations are fundamental for every tattoo business – and Versum is who tattoo artists turn to for that kind of help.
Paper isn't old-school – it's just old
Maybe ten years ago, paper was used as a prominent form of advertisement – with local newspaper ads, handing out business cards and putting up flyers. Now imagine resorting to just this form of advertising today. Let's face it, paper is losing its touch. Modern tattooists make use of Facebook and Instagram ads, social media groups, fan pages and of course, text marketing. It's astonishing how far we've come. Social media ads are perfect for targeting potential clients in the area, groups and fan pages help get your brand name out there – and text messages are the ace up your sleeve.
Now here's where Versum makes its debut – if you're running a special, have recently rented a chair to a renowned artist, or are looking for models, you're going to want to inform your clients about this. You can either select your entire client list in the system or choose a specific group of customers – once you have them selected, write out your message. Additionally, you can also try other marketing tools, such as the Loyalty Program, which rewards clients for their purchases, reviews and each person they've referred to your business. Most clients get more than one tattoo, so why not make the most out of this? A client who's looking to get another tattoo at your business will grab the chance to get a discount if all they have to do is successfully refer a friend to your business. Versum tracks each referral and awards points to the client, getting them closer to grabbing their desired prize. There's no need to track anything on paper – the system is cloud-based, making it easy to access this information from any device that connects to the Internet.
How's business?
You probably answer with "good", "so-so" or "not good" or any variant of the sort. Do you really know what your numbers are? Keeping a notebook with your earnings or an excel sheet is too much trouble to regularly maintain, but then again, knowing your numbers is vital for your business to function. Can you afford that Inkjecta Flite nano tattoo machine that you've been eyeing for some time now? Or even a second-hand chair to replace your old one? Don't forget, you've got bills, staff salaries (if you have employees), and basic supplies to pay for – and that's without marketing expenditures. If you don't know your exact numbers, how can you make important investments? Sure, you've got enough money in the cash register for that tattoo machine, but will you be able to cover all of the other expenditures at the end of the month?
Versum has the answers you're looking for. The system gathers information from all of the appointments in your booking calendar – allowing you to to check how much profit you've made throughout a certain timeframe, how much you've earned from service prepayments, the number of hours staff have worked (if they're hired), the number of gift card sales, service popularity and even predicted revenue – Versum delivers. Although knowing your earned revenue can come in handy, it's predicted revenue that really steals the show. By being able to check how much profit you are looking to make from your upcoming appointments, you'll be able to infer whether or not you'll need to create marketing campaigns to reach your monthly profit goal (that is – if you have one), or if you're in the clear and have nothing to worry about. And with prepayments being active, clients will be less likely to no-show, as they've partially paid for their service.
Keep in touch
Someone who gets a tattoo from your business isn't just a client – they've put their trust into your steady arm and creativity, so much so that they've decided to do it for life (or unless they later have regrets and choose to get it removed, but let's not dive into that). Whether it's a simple feather tattoo with a meaningful date, or a pectoral to full arm sleeve tattoo of the Greek gods and goddesses, your client is your business card (in a sense). They wear your artwork and most likely promote your business when asked about their tattoo. But what's great about such clients is that they keep coming back to your business for one reason or another – and that means you have to keep in touch with them! That highly-detailed sleeve isn't going to be completed in one sitting, and so you're going to have to keep them updated on their next session. Another group of clients who you should stay in touch with are those who are looking to keep growing their tattoo collection.
Using Versum's messaging system, write to a select group of clients (such as those who are ready for another session, or clients who have had more than one tattoo in your business) by utilising the search criteria. With your group selected, create a message that encourages them to book with you. When writing to clients who need to book a follow-up session, go along the lines of:
"Hi [client's name], it's [your business name] – we can continue working on the next part of your tattoo, check my booking page for availability and write back here if you have any Q's" 
And if you're looking to tempt clients to get another tattoo done, try one of these approaches:
"Hey [client's name], it's [your business name] – guess who's in our chair! [Tattoo artist's name] – check our [his/her] work on our website and book a slot with [him/her]!"
"Hi [client's name], guess what your favourite shop has for you – a nice discount and tattoo care kit for your next ink. Offer ends [date]." 
Versum's email and text messaging allows for two-way communication, which makes it easy to stay in touch with clients. Additionally, you can automate a number of messages in the system, such as appointment reminders, confirmations, rescheduling, cancellations, birthday wishes, and even review requests. Can a paper notebook do all that? Of course not. With a reliable digital solution, your business is mostly automated – allowing you to get back to doing what you love. Try Versum for free for two weeks – no credit card required, no contracts, and free support forever.