Warning signs of a two-faced employee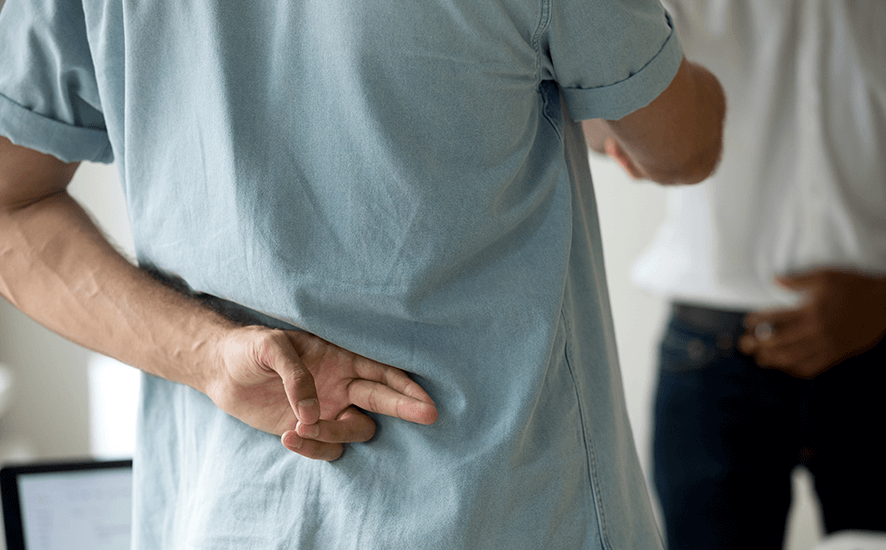 For successful salons and spas, creating the ultimate team of expert specialists is key. They work with clients regularly, ensuring that they receive the highest quality servicing and comfort – in other words, your staff represents your business image in its entirety. But all of that may take a sharp turn if you have a two-faced employee in your midst.
Two-faced employees are difficult to spot, especially when they first join your salon team, but after a while, you may begin to see their true colors. Although their actions may or may not be intended, they still have a negative impact on your salon, clients and even other staff members.  Here are some of the telltale signs you may have this culprit among your hardworking team members.
Lack of drive
Staff members that go to the "dark side" do not do so from one day to the next – the process is usually long-term and begins with a lack of drive. An employee that is less motivated does not necessarily mean that he or she is two-faced – they may be facing difficult personal matters or may be worn out from work. However, if a simple lack of motivation turns into tardiness, lack of interest, and uncommunicativeness, you should act swiftly.
Solution: speak with the employee and mention that there is an obvious drop in his or her motivation. Addressing the problem at an early stage may make it easier for them to discuss the issue. Once you know the root of the problem, take appropriate measures to resolve the situation. If the staff member decides not to discuss the matter, speak with the remaining employees and ask for their thoughts.
Exhibiting rude behavior
A rude staff member is a salon owner's nightmare – not only does their behavior affect you, but it also has a negative impact on other staff members and most importantly your customers. Most clients rate a business based on the experience they have with the service provider, so when they are serviced by a rude staff member who uses vulgar language or simply ignores them, your ratings plummet, and we all know how difficult it is to regain a customer's trust. Besides using profanity, resulting in a tarnished reputation, they may even get involved in malicious activities at your salon, such as stealing products, not doing their assigned tasks, or worse, stealing your customer list.
Solution: Addressing the staff member's behavior is top priority, even if it means closing shop during the day. Ask them the reasons for their behavior and what you can do to create a better work environment. Make sure your talk resonates and let the employee know that rude behavior is not tolerated in your business. Additionally, speak individually with the remaining staff on the situation and ask for their input.
Theft at your salon
Theft is one of the more serious cases a salon may face when dealing with a misbehaving staff member. At this stage, the employee has a mischievous intent and is not concerned about the well-being of the salon. You may begin to take notice products missing off of your shelves or from your inventory, but this is not the worst of it. If your customer records are not stored securely, your two-faced employee may attempt to copy them for personal use. If your list is compromised, the staff member may contact your clients and service them privately, or at another salon, if they have chosen to work elsewhere. The natural consequence of this is that your salon loses valuable customers and a significant amount of profit. At this point, appropriate measures should be taken in order discharge the employee.
Solution: As far as data and inventory security is concerned, Versum salon software is the right tool to keep your products and information under lock and key. With inventory level management, you know exactly how much product you have in storage, along with usage and sales reports. Assign each staff member access level restrictions, which is the solution to data theft. Staff members with limited access will not be able to see customer records or statistics, allowing you to rest easy, knowing that your information is secure.