What clients love the most about Versum?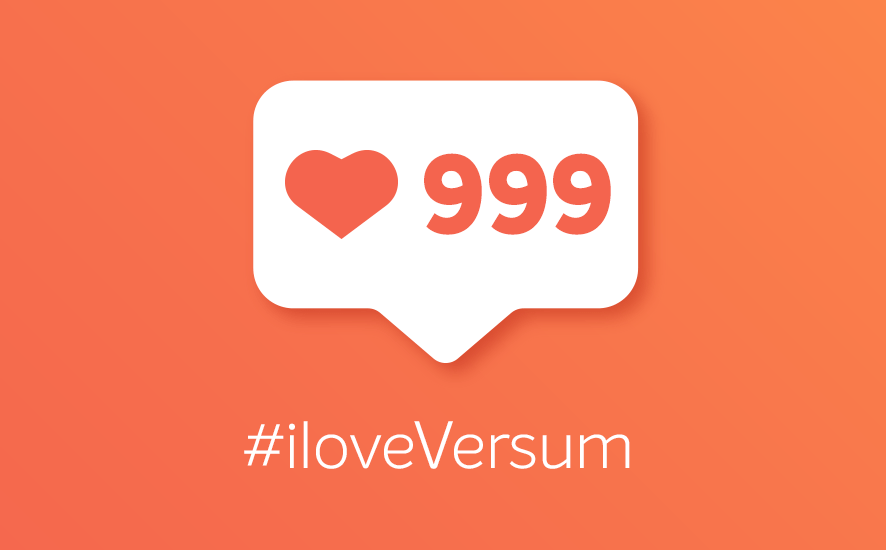 Building a prosperous beauty business is not an easy undertaking. We are aware of this, which is why for years we have been developing a tool which facilitates the work of thousands of salon and spa owners across the world. Those who have placed their trust in us agree unanimously that they can no longer imagine operating without Versum. What makes the system so easy to love?
For beauty salons, the path to success is paved with difficulties, the overcoming of which often determines the fate of such a business. We understand this very well, which is why we have created a salon management system that makes problem-solving and (above all) prevention much easier. A system that streamlines the operation of hair & beauty salons in almost every aspect of their functioning.
Our comprehensive tool has quickly captured the hearts of thousands of users in Poland and across the world and, to make sure it provides them with reliable support, we discovered what our clients love about Versum the most by keeping a close eye on the system's most popular functionalities. And we are happy to share it with you!
Unlimited access
Versum software operates in the cloud, which means that you can log into the system from anywhere in the world – all you need is a device with network access. This allows owners to keep an eye on their businesses even when they are away, while ensuring that all the data stored in the system is well protected. Such a solution also facilitates communication within the team, as it provides employees with unlimited access to the rota and task schedule – so that they can check it whenever they need to, while possible changes are communicated immediately, without the risk of someone forgetting to provide the necessary information.
Online booking
This option brings benefits not only to salons, but to clients themselves, providing the highest quality of service. Thanks to online booking, those interested in making a visit can book it independently via the Internet. As a result, salon employees no longer have to waste time on making reservations over the phone, or confirming upcoming visits. This is because each booked appointment is automatically logged into the calendar of the salon, and the system also reminds the customer about the booking 24 hours in advance, with a short text message or email. What is important, online booking is available 24/7, so clients can make a reservation at any time, and the salon's calendar fills up without any effort.
Reliable client records
Information about clients is the basis for building positive, professional relationships and customer loyalty. On the other hand, it is also the key to providing clients with an excellent service – because over time their preferences, characteristics and possible contraindications to certain services or treatments are recorded and continuously expanded. Thanks to Versum's electronic client records, the users can build a well-organised treasury of knowledge about their clients and thus constantly improve the standard of their services. The ability to easily look for information means that preparing for each visit takes very little time, which would be otherwise lost on searching for the necessary data in a sizeable binder.
Full stock control
Versum clients have no reason to worry that they will suddenly run out of products or cosmetics necessary to perform a treatment. This is because the system keeps a watchful eye over the stock. It automatically updates product levels, lets you know when something is running out, and even prepares a shopping list. In addition, based on previous orders, it allows you to plan product use, so that the shopping list always shows exactly what you need in your salon – and nothing runs out too early or is unnecessarily sitting on a shelf.
Up-to-date statistics always at hand
The analysis of statistics and reports on the activity of the salon helps to keep an eye on the salon's functioning and plan the next steps in its development. However, we all know that preparing detailed reports is time-consuming and taxing – which is why Versum provides support in this regard as well. Our clients appreciate the fact that ready-made reports and statistics are always available in the system. They can verify any data with just a few clicks, because the system is able to independently prepare the required analyses. What is there not to love?
Hair & beauty salon owners using Versum unanimously attest that since they started working with the system, they can no longer imagine working without it. The functionalities it provides – including automation of many arduous tasks – are now considered indispensable. Thanks to the Versum salon management system, they can rest assured of the condition of their business and concentrate on developing it, while having time for their private life and personal development.
Just within a couple of days, it helped me raise the turnover by 30%! It's very easy to use – simply irreplaceable! In my opinion, this is the best software for managing your salon. – says Kinga Jaszczuk, owner of Dream Catcher Beauty – Dublin.
[Total: 4 Average: 4.8/5]