Looking for the best hair salon software?
Running your very own hair salon has always been your dream, but nobody mentioned the everyday chores that came with it, did they? Managing bookings and staff, collecting statistics and launching marketing campaigns are just some of the tasks you will be faced with. However, with the right hair salon software, you can easily automate the most time-consuming and mundane tasks. Versum will help you to efficiently deal with all the day-to-day hassle, letting you enjoy your work and grow your salon.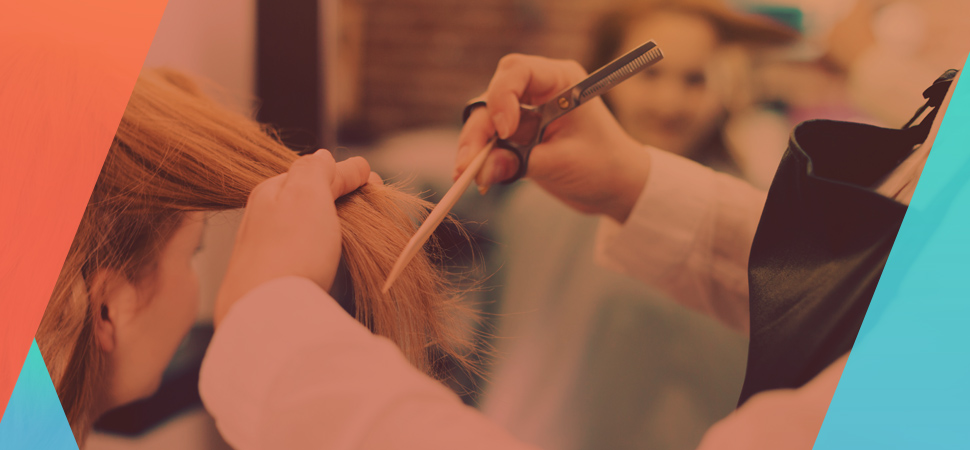 Save time with easy-to-use hair salon software
Automatic appointment reminders, instant online booking, customer review requests and marketing automation are just a few features available in Versum. Intuitive hair salon software will streamline all of your everyday tasks, allowing you to get your work done faster and giving you more time for your salon customers – and yourself.
Improved customer service with individual client records
Knowing your clients and their preferences is the key to perfect customer service. With help of Versum's electronic database, you will have insight into every client's information. Easily check each of their favourite services and products, previous hair colour formulas, photos, notes and any other piece of information you may need to in order to serve them quicker and more effectively.
Control stock and boost retail in your salon
Easily track your product sales, deliveries and stocktakes. The easy to use Versum hair salon program can even predict future backbar usage and let you know if you're running low on products so you can reorder them in time. Real-time, automated reports provide you with useful insights into stock changes and generated revenue, allowing you to easily stay in control of your business. With just a click of a button, you can generate and view the most important data about your salon and thanks to the app (available soon) you can check it from wherever you are. For additional convenience, generate and print reports whenever you need them, directly from the system. With Versum, everything you need to manage and track stock is just a click away!
Manage your employees effectively
Versum has far more capabilities than a simple booking system. It is a complete hair salon management solution that will give you all the relevant information on your employees: the number of appointments, product sales, generated revenue, work time and rosters, commissions and even customer retention. Advanced online security features like customer data protection mode, employee access restriction, an activity log and others ensure the safety of your data. With such options, you may even consider going on vacation and leaving your salon in the hands of your team – with Versum, you can see everything that is going on at your salon with the online remote access feature.
Automated reminders
Online booking
Stock control
Automated reviews
POS
Gift cards
Tips online
Social Media Integration
Loyalty program
How our clients see Versum hair salon software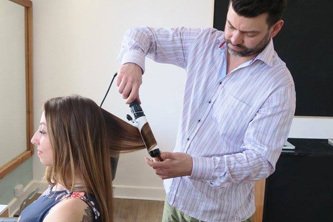 Very user friendly, easily adaptable as the salon grows and evolves. Stylists and practitioners who have never used hair salon appointment software find Versum non-threatening and a relief to work with. The most rewarding benefit I personally gain is time to concentrate on other areas within the salon, knowing Versum has everything.
Simon Bishop
The River Rooms, UK
Although the paper appointment book brings back acute nostalgia for many business owners, it is an outdated and cumbersome tool. Take control of managerial duties, such as managing bookings, client records, stock levels and staff with an intuitive and dependable online hairdressing software. Reduce no-shows with automatic SMS and email appointment reminders, or activate your marketing automation feature to run your campaigns automatically for you. Manage everyday responsibilities with ease, while saving a significant amount of time. Surely you'll know how to make the most of it!
How to use management software for hair salon marketing?
Promoting your hair salon is essential if you want it to grow and bring you profit. There is no time to lose – you have to keep working on your marketing strategies or you risk falling behind. This is why many stylists not only wonder how to get more hair salon clients, but also how to get more hair clients fast. Can a management software, such as Versum, help you with hair salon marketing?
Versum has many great features that will definitely help you to reach your marketing goals. As it allows you to run very detailed customer records, you can truly personalise your promotional campaigns. By knowing your clients' appointment history, product preferences, likes and dislikes, you can make the offers more tempting than ever.
Versum also delivers an automated messages feature, allowing you to send bulk SMS and email notifications. With the advanced database filtering option, you will get through to your customers like never before!
Let's not forget about the Marketing Automation add-on. Thanks to it, you will run four super effective marketing campaigns, focused on getting back lost clients, reminding regulars to book another recurring appointment, making a good first impression last, and encouraging loyal clients to explore new treatment options.
Finally, you can take advantage of the Loyalty Program – another amazing add-on that will help you get more loyal customers. This feature boosts clients' engagement and consequently, makes you earn more. You build lasting relationships with your clientele and make a solid profit along the way!
Will Versum help you to develop and promote your hair salon?
That's our mission! We are a part of the hair and beauty community. Apart from providing and constantly developing our great software, we also deliver high-quality content, dedicated to all salon owners, managers and specialists. You can always count on our blog for hair salon owners – we publish fresh articles weekly and never fail to write about relevant topics. Our social media fan pages are full of useful hair salon management tips and advice in many different forms – from short posts to detailed videos. We regularly create free downloadable materials, such as checklists, audiobooks, guidebooks and ebooks that provide practical knowledge that you can apply to your business. And let's not forget about our rich Knowledge Base, where you will find all of the information necessary to get the most out of our software!
We want to not only help you manage your business better, but also to support you on every stage of your professional journey. We do everything we can to ensure the quality of our content. On our blog, you will find a wide range of topics – from strictly business advice and helping you to write your own business plan or set of salon policies, to more social issues, where we discuss the best way to deal with daily challenges without hurting your trade. You can count on our specialists to always provide you with great new ideas and well-researched analysis of business matters. Whenever in doubt, check out our channels – chances are we already have a solution for your problem! And if not – then we will be happy to help you find it.
Is our hair salon management system prepared for the challenges caused by the COVID-19 outbreak?
The coronavirus outbreak made it more important than ever to take advantage of well-thought-through features of advanced management software. We rose to the challenge and delivered many new features dedicated to making running a hair business in this difficult time much easier.
Versum allows you to introduce a health screening questionnaire that your clients have to fill out and pass prior to being treated. Such a COVID-19 form is a necessity for hair salons – and our system makes it so much easier to implement by sending it automatically. It also ensures that clients are screened before they arrive at your doors!
Another fantastic feature of Versum, developed to help you get through the epidemic, is the Online Store. Thanks to it, you can get back the money frozen in your inventory and keep selling products regardless of the circumstances. Lockdown or not, you are making a profit!
Our software also allows you to easily add a prepping and a recovery time to the services, which gives you the opportunity to reserve proper slots for disinfection and mask breaks.
We do our best to deliver helpful materials, tips and advice – we've created countless samples of hair salon policies and procedures, examples of reopening messages, post-lockdown business and marketing plans, and so on. Our blog is full of articles with tips on how to make wearing face coverings in a salon much easier, how to deal with clients and staff who refuse to follow safety procedures or how to ensure great customer service while still abiding by safety regulations. We stay up to date with relevant news and procedures for the industry, and make every effort to help you overcome your daily challenges.
Does Versum work as an app on mobile devices?
Of course, that it does! Our salon management system is an application – you can use it on any device with internet access that supports web browsers. But it isn't just any regular small booking app – it is so much more. Versum is advanced software that will help you manage your entire business. So, regardless of whether you are looking for a hairdresser appointment app, a hairdresser booking app or an app for sending appointment reminders, Versum will be the perfect all-in-one solution.
Does our software for hairdressers collect and store clients' data?
One of the most important parts of our system is its advanced customer records. We know that for hairdressers, a solid database is an absolute must-have – you need to store a lot of information, from colour formulas to notes regarding allergies. Versum gives you the opportunity to secure everything there is to know about your customers and use it for both communication and marketing purposes. For example, automated appointment reminders take advantage of the stored contact details and are delivered to your clients at the right time.
When it comes to marketing, thanks to the detailed information on your customers, you can send them personalised offers. Taking advantage of the advanced filtering of the database, you can find clients who purchased a particular product or are in a particular age group with just a few clicks! Then you can target them with bulk SMS or email messages that will be far more effective than regular, cookie-cutter promotional campaigns.
Is our system for hairstylists compliant with GDPR?
The safety of your hair salon database is a priority for our software. All information you enter into our system is stored on rigorously protected servers and, to prevent data loss, copies of it are kept on multiple servers located in independent premises. Accessing it is possible only through an encrypted connection, which prevents third party interception.
But that's not all! We also employ role-based access control, which means that you can give each of your employees a different access level and track their activities in the system. It also allows you to use the advanced security features available in the system, such as customer contact details protection mode or access restriction.
Versum ensures total compliance with the personal data protection standards. There is no safer way to store clients' information than to enter it to our system.
Is Versum a good solution for large salons, solo business owners and mobile hairdressers?
Some specialists think that advanced business management software is useful only if you are running an extensive salon, but it isn't true. Although Versum is a big relief for salons who employ multiple specialists, thanks to features such as work schedules, organisation of work and assignment of tasks, records of leaves and absences, availability of equipment and rooms, work time analysis or automatic calculation of commissions; it also provides numerous functionalities dedicated to smaller-scale businesses.
If you are a solo or mobile specialist running your own trade, you will most definitely make good use of features that replace a receptionist, such as online booking and appointment reminders. You will be able to take care of marketing activities by yourself thanks to the Marketing Automation and bulk messaging feature. You can easily keep track of appointments and customer records, control inventory and check statistics. You basically gain a perfect assistant and the most hard-working employee that you can hide in your pocket.
How much does our software cost?
We offer our clients four different subscription plans. The first one is dedicated to solo and mobile business owners – it comes with all of our features, except for the ones dedicated to employee management, as we don't want you to pay for functionalities you won't use! The three remaining plans depend on the number of team members you have – the basic is dedicated to small businesses with 2-6 employees, the medium provides access to 7-12 employees and the large comes unlimited. All of them, including the solo option, come with free implementation and free live support. Check further details in our pricing section!
Sign up for a free salon software trial
Book a guided tour and see all the benefits of Versum, program for hairdressers.
Try for free